Sales Cap for Ontraport Plugin
Ontraport is a robust CRM that allows its users to easily automate Marketing and Sales on their sites. It lets you quickly and easily set up products and checkout pages to drive your sales. However, one aspect that's missing is the ability to manage stock or to set a limit on the amount of products you want to sell. This is especially important if you wish to sell physical products, tickets to events, or spots for a course.
That's where the Sales Cap for Ontraport WordPress plugin comes in. It let's you very easily set up a limit on the sales made through a checkout page on WordPress. When enough sales are made, the plugin redirects the visitor to a page of your choosing.
How to set it up?
Once you install and activate the plugin, all your pages will contain a section to specify a Sales Cap and a Redirect URL. You'll want to set this up on the page that has your Ontraport Sales Form embedded in it.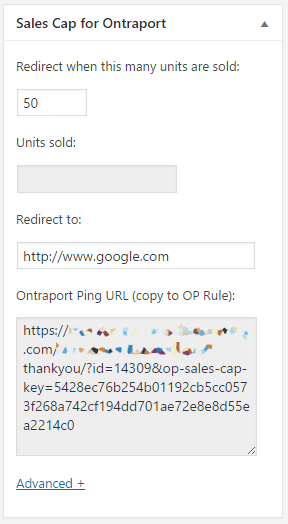 Specify the sales cap and the redirect URL and then save your changes by updating the page. When that's set up, copy the unique Ontraport Ping URL and set up a new rule in Ontraport that is triggered when the product of your choice is purchased. Set the Action to Ping URL and paste the address produced by the plugin.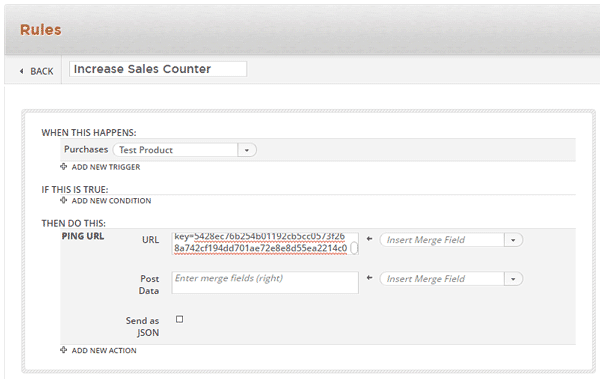 That's all it takes. Once sales start coming in, you can check how many units have been sold directly from the plugin.
How to download?
Click the button below to purchase the Sales Cap for Ontraport plugin. You will be taken to a secure checkout page and within 24 hours you will receive a download link to the latest version and a license key to activate it. Feel free to test it out for up to 7 days, and if you're not happy with it just contact me for a refund.
<form action="https://www.paypal.com/cgi-bin/webscr" method="post" target="_top" style="text-align: center;"> <input type="hidden" name="cmd" value="_s-xclick"> <input type="hidden" name="hosted_button_id" value="WYLVFS7XZP384"> <input type="image" src="https://www.paypalobjects.com/en_US/i/btn/btn_buynow_LG.gif" border="0" name="submit" alt="PayPal - The safer, easier way to pay online!"> <img alt="" border="0" src="https://www.paypalobjects.com/en_US/i/scr/pixel.gif" width="1" height="1"> </form>
If you do not receive an email from me after 24 hours, please contact me at support@luisten.com